Manufacturing shows signs of expansion to start new year
Here's something we haven't seen in six months: an expansion in manufacturing. That's according to one key economic supply chain indicator.
For the first time since July 2019, the Institute for Supply Management (ISM) Report on Business has registered a Purchasing Managers' Index (PMI) above 50 percent, which signifies manufacturing expansion and growth. At 50.9 percent, January's PMI is also a tick above the 12-month average of 50.8 percent.
This 3.1 percent jump to start 2020 comes as a surprise following months of steady contraction. In fact, December's 47.8 percent reading matched September's mark for the lowest PMI in the last decade.
"Global trade remains a cross-industry issue, but many respondents were positive for the first time in several months," ISM Manufacturing Business Survey Committee Chair Timothy Fiore said.
New Orders, Production, New Export Orders, and Imports indices all indicated growth last month on the heels of a significant economic shake-up with the signing of the Phase 1 trade agreement between the U.S. and China.
"Demand expanded, with the New Orders Index growing at a moderate rate supported by new export order expansion, the Customers' Inventories Index remaining at 'too low' status and the Backlog of Orders Index contracting for the ninth month, but at a slower rate," Fiore added. "Consumption (measured by the Production and Employment Indexes) expanded to respond to new order intake, contributing positively (a combined 10.9-percentage point increase) to the PMI calculation. Inputs — expressed as supplier deliveries, inventories and imports — weakened in January, due primarily to increasing contraction in inventories while supplier deliveries remained in expansion territory, but at a modest rate. Imports expansion returned, but also at a moderate rate. Inputs contributed negatively to the PMI calculation, a reversal from the previous month. Prices increased for the second month, a positive for 2020."
The fabricated metal products sector was one of 10 manufacturing industries that reported overall growth in January, including growth in new orders and production. However, still in the face of on-going steel and aluminum tariffs, the sector also showed a dip in employment, a slowdown in supplier deliveries, decrease in inventories and new export orders, and an increase in prices.
The anonymous representative from the fabricated metal products sector said in the report that the new year has been off to a solid start, but not as good as last year: "Our business is starting 2020 stronger than we finished 2019, as we saw a dramatic downturn in orders over the last four months of 2019. Orders are up to start the year, but slightly behind where they were one year ago."
But does January's expanded PMI forecast continued growth for the rest of the year? That's hard to say. The 50.9 reading is still close enough to contraction territory that a dip back under 50 percent isn't out of the question. It's also remains to be seen how concerns of the Wuhan coronavirus will impact the global supply chains for the long-term.
According to Trading Economics, its Business Confidence econometric model estimates that the PMI will trend around 52.40 percent throughout 2020.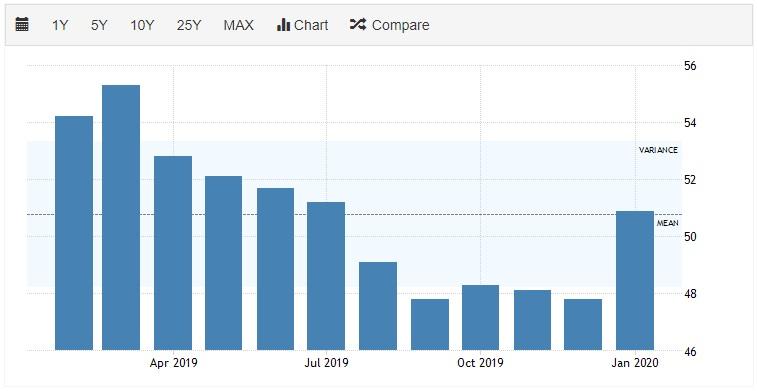 In the short-term impact, however, we can look at the Baltic Dry Index (BDI), says Keith Prather, co-managing director at Armada Corporate Intelligence.
The BDI, a supply chain indicator which tracks the cost of moving raw/bulk materials and measures the demand for shipping capacity against the supply of dry bulk carriers, is believed to be one of the world's oldest global economic barometers. In the past week, the BDI hit a 5-year low, down -202%.
It's normal for the BDI to take a dip this time of year. But the most recent drop has been notable.
"This drop in the BDI is far more dramatic than it would normally be," Prather noted in Armada's Black Owl Report. "The shutting down of China over the coronavirus is showing up in the demand for raw materials and going into January with an already weak global manufacturing sector has weighed on demand."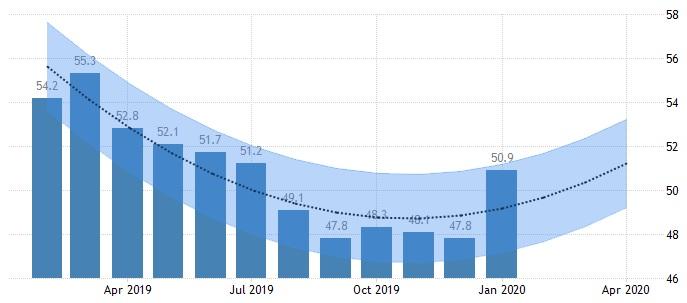 From:The Fabricator